d a t e s
Look here to find information about upcoming performance dates, locations, and times.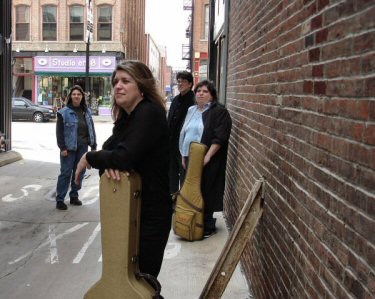 Come out and see us!

* * *
Friday, August 30
Pride on the Patio
The Phoenix Center
109 East Lawrence Avenue
Springfield, IL
7:00 p.m.

Join us on the Pride Patio! From 7-9 p.m. there will be live entertainment THORNHILL! They are amazing. Also on hand will be a food truck, bag games, washer games, and more! Come over after work and unwind for the weekend!

* * *
Thursday, September 5
The Curve Inn
219 S 6th St,
Springfield, IL
6:30 p.m.

We're glad to be playing here once again to help close out the summer. We'll once again be bringing the full electric band. Great drinks, great food, and great rock and roll. What's not to love?

* * *
Saturday, September 7
Anvil & Forge Brewing and Distillery
619 E Washington St,
Springfield, IL
8:00 p.m.

We're pleased to be invited to play this new Springfield establishment after our performance on the Anvil & Forge stage at the Springfield Downhome Music festival a few weeks back! Come out and support us for our first rock show here and drink some some excellent locally brewed beers!

* * *
Sunday, September 8
Spirited Republic Brewery
509 Pulaski St
Lincoln, IL
1:00 pm

Tina and Joel (performing as a duo) are happy to be invited back to perform again! We had such a great time the last time Take a short drive to Lincoln and check out this new brewery and have a great Sunday fun day!

* * *
Saturday, September 21
Walnut Street Winery
309 South Walnut St
Rochester, IL
5:30 p.m.

It's Walnut Street Winery's 10th year anniversary! We're pleased to take part in the celebration. We've been playing here since their beginnings, so it's a real honor.

* * *
Sunday, September 22
Vixen Hill Winery
7331 Palmyra Rd
Palmyra, IL
2:00 p.m.

We'll have the full acoustic band out this time. Enjoy an early autumn afternoon with the sounds of Thornhill!

* * *
Saturday, September 28
Danenberger Vineyards
12341 Irish Road
New Berlin, IL
5:00 p.m.

Our second time playing this cool winery in nearby New Berlin. Bringing the electric guitars and drums. Come out, bring your friends, and have some fun!

* * *
LOTS MORE DATES ANNOUNCED SOON!