d a t e s
Look here to find information about upcoming performance dates, locations, and times.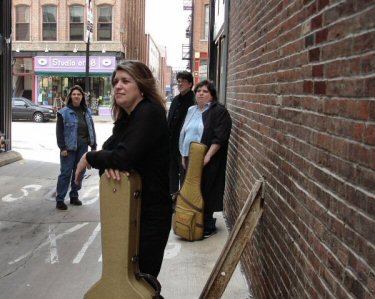 Come out and see us!

* * *
Saturday, May 20
PrideFest 2022
Downtown Springfield, IL
Thornhill plays @ 2:15

PrideFest is a family friendly street festival to celebrate LGBT culture and community, pride and respect.
Band Lineup:
The Deep Hollow
Thornhill
Bluewater Kings Band

* * *
Sunday, June 12
Vixen Hill Winery
Tina and Joel Acoustic Duo
7331 Palmyra Rd
Palmyra, IL
1:00 p.m.

We're back at Vixen Hill! Take a short drive on a Sunday and check it out.

* * *
Friday, June 17
Lincoln Street Fest
Spirited Republic Brewery
509 Pulaski St
Lincoln, IL
7:00 p.m.

Join us for some electrified rock and roll sounds up in Lincoln. Lots of awesome beers to try at this wonderful Establishment.

* * *
Friday, July 29 - Saturday, July 30
Downhome Music Festival
Springfield, IL
Date and time to be determined

Holy Moly! We're back at Downhome! Come out and spend Friday night and Saturday afternoon/evening grooving to some of the best local original music around. The fact that there are 100 craft beers available sure doesn't hurt either. See you there!

* * *
Saturday, August 27
Lincoln Hot Air Balloon Festival
Downtown Square
Lincoln, IL
2:00 p.m.

Tina and Joel perform as a duo for this annual Lincoln event.

* * *
Sunday, September 18
Vixen Hill Winery
7331 Palmyra Rd
Palmyra, IL
2:00 p.m.

Check out some acoustic tunes and close out the summer with the band!

* * *
LOTS MORE DATES ANNOUNCED SOON!